March 23, 2008
In Our Path, a Photo Documentary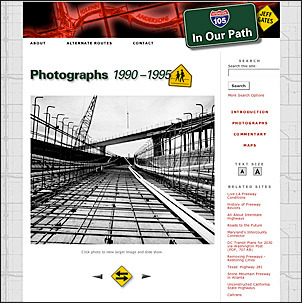 The new and improved In Our Path
In the 1980s and 1990s I photographed a swath of Southern California real estate that was to become the Century Freeway, or as it's more commonly called by commuters, I-105. Running east from LAX, this was to be "the last freeway" to be built as part of the state's master plan for the region (although there were many additional freeways proposed and many where completion was still in limbo).
In Our Path marked a big change in the type of photographs I made and how I approached the intersection of art and culture. Up until this time my images had focused on an internal exploration of myself. But from this point forward my work would always be linked more directly with social issues. And since that time I have tried to find a balance between the social, the personal, and the aesthetic.
After the completion of this work I created a Web site for this documentary. But, designed in the "Jurassic Web Design Period" of the mid 1990s, it was starting to show its age. And with The Huntington Library's recent acquisition of the series, along with an exhibition that this work will be a part of this coming June, This Side of Paradise: Body and Landscape in L.A. Photographs, I thought it was time for a site facelift.
You can read about the complexity of this large public project (a court injunction filed by homeowners, the NAACP, and the Sierra Club stopped construction for seven years) and the genesis of my images starting on the site's Introduction page. But most of all, I hope you enjoy the photographs.
View Most Recent Story
:::
Notify me when there's a new missive!
Comments
Posted by: Randall Packer on March 23, 2008 2:54 PM
Posted by: Albuquerque Real Estate on March 23, 2008 11:29 PM
Posted by: Britta on March 24, 2008 7:14 AM
Comments are now closed for this post. But there are a few other entries which might provoke an opinion or two.