February 24, 2008
Mary P, His Wife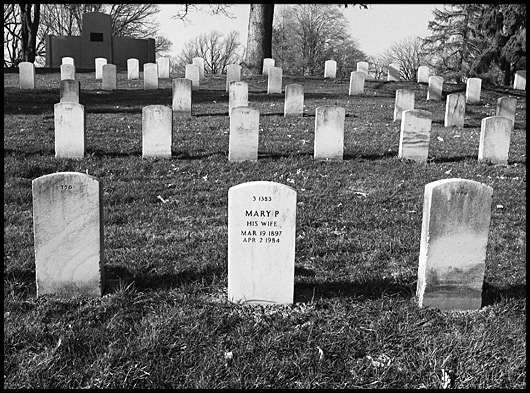 Jeff Gates, From a Series of One Acts… #2, 1986. Click on image for larger view.
One of my photographs is part of an exhibition opening this week at the Baltimore Museum of Art entitled Notes on Monumentality. The show "…reconsiders historic and contemporary conceptions of the monument and monumentality…" Through the work curator Mark Alice Durant asks "Can the idea of the monument continue in an era when social consensus no longer exists?"
The photograph above was taken in the national cemetery at Gettysburg. I was walking along the rows of soldiers' tombstones when I turned and looked the other way to see this inscription on the back of a headstone. I thought it was a telling example of the way women are often conveyed in our society: as an appendage to their husbands. My wife and I were shocked a few years ago when at a reception after a museum talk I gave at another institution she was handed a name tag that said "Susie Krasnican Wife of Jeff Gates." (The name tag still is pinned to our kitchen bulletin board.)
I didn't realize my photograph was to be part of the show until I got an email from the museum's rights and reproduction staff asking me to sign a non-exclusive license to use the image both on the show's brochure cover as well as represent the exhibit as one of its key images. A key image is one that is used when the media requests a photo to accompany reviews or articles about the show. Working in an art museum myself I participate in meetings to pick key images for each of our exhibitions. So it was an added surprise to have my photograph used in this way.
If you're in the Baltimore vicinity stop by and see the show. It's up until May 25, 2008. And bring your husband.
View Most Recent Story
:::
Notify me when there's a new missive!
Comments
Posted by: steve on February 24, 2008 3:46 PM
Posted by: Howard on February 24, 2008 5:00 PM
Posted by: Ivan Pope on February 24, 2008 7:32 PM
Posted by: Gloria Chen on February 26, 2008 3:22 AM
Posted by: Jeff on February 26, 2008 7:42 AM
Comments are now closed for this post. But there are a few other entries which might provoke an opinion or two.