November 24, 2006
Bad Kitty!
You might remember last year I discovered that someone was "hotlinking" to one of my images. Hotlinking is where someone links directly to your image file and places it on his or her own site. This violates a couple key netizen rules:
Don't steal someone else's bandwidth. Every time the image appears on their site your Web host charges you for the use of bandwidth.
Always ask.
When coming upon a hotlink transgressor there are effective strategies of dealing with him/her. Using some coding to my site's .htaccess file I can ban them from linking to any images on my server. For example, I have banned all sites on MySpace.com —a major source for hotlinking— from linking to any of my images (why don't the heads of these major sites educate their flock?). Or, I can replace any link they make to one image with one going to another image. Some bloggers have used this tactic by swapping the hotlinked image with one of a questionable variety (as in "not safe for work"). Embarrassing humor ensues. I prefer a slightly different, but related response.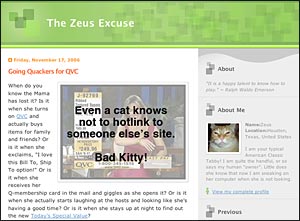 Cat blogger Zeus hotlinks to one of my images. Bad kitty!
Earlier this week I was going through my referrer logs to see who was linking to my posts and I found another site linking to one of my images. This time it appears the blogger is a cat named Zeus who pens a blog called The Zeus Excuse.
Rather than ban the image, I created a special Photoshop file just for his site. I show the purloined image in the background but put a message about hotlinking in the foreground. Usually, the blogger sees the new image and replaces it. But, poor Zeus must be off in catnip heaven at the moment and hasn't noticed the change to his recent post.
Zeus, there is no excuse. Bad kitty!
Update: It took about a week but Zeus finally got the hint. The post has been taken down. (For the record, dear Zeus, I only asked you to stop using my image without permission. You didn't have to nix the entire post.)
View Most Recent Story
:::
Notify me when there's a new missive!
Comments
Posted by: Myke on November 24, 2006 1:23 PM
Posted by: Jeff on November 24, 2006 5:52 PM
Posted by: Donna on November 25, 2006 2:13 AM
Posted by: Jeff on November 25, 2006 11:16 AM
Posted by: Donna on November 25, 2006 1:19 PM
Posted by: lia on December 14, 2006 4:27 PM
Posted by: Myke on January 2, 2007 11:40 AM
Comments are now closed for this post. But there are a few other entries which might provoke an opinion or two.