June 28, 2009
A Catalogue for Life
I missed Father's Day. Again.
Like last year, I booked a trip to LA only to discover it coincided with the day my family was supposed to honor my fatherhood. And just like last year everyone was happy to celebrate my family contributions this weekend instead.
These yearly sojourns to Southern California are meant to keep connected to family and friends. Our mundane moments are communicated pretty well through email and periodic phone calls. These trips reveal more subtle changes: walking with a walker after a Thailand accident, no longer dying her hair, the desperate need for a dentist, and the bright smile I've forgotten.
On last year's trip I discovered a gold mine when I unearthed a bit of Gates family history: Malibu Clothes in Beverly Hills. This, my faithful readers will remember, is where my father bought all his suits wholesale for fifty years. And, this is where he bought me my first suit at the age of seven. You had to know somebody to get in. Cheap prices for quality material, yes. But this was Beverly Hills. Even in the 1950s exclusivity was a must.
On this trip I decided to make a return visit. I certainly didn't need another sports coat but a pilgrimage seemed in order if I wanted to truly reconnect with my father for Father's Day. And, I wanted to get a photo of the biggest Rolodex I'd ever seen: The Acme Visible Strat-O-Matic.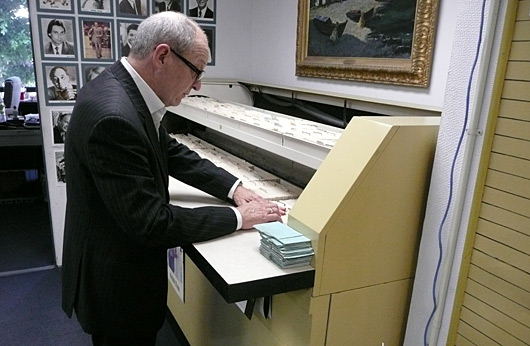 Looking for my buying history in the Acme Visible Strat-O-Matic. That's Jimmy Smits' photo in the background. I told you this place was exclusive!
Not to be confused with the Strat-O-Matic game company, purveyors of sports simulation games, this Strat-O-Matic neatly housed thousands of clients' clothes-buying histories on a million 3x5 index cards. "Don't you have a computer database of these records?" I asked my salesperson. "Yes, but having something tangible to carry with me while you shop allows me to quickly scan your buying habits —what you like and don't like and how many times you've come in and bought nothing. Stuff like that." As I scanned their latest selections I knew my entry for that day would be ¡Bought Nada! Bought nothing! But as I said, I wasn't there for the luxurious fabrics. I was there for the Strat-O-Matic.
The owner chimmed in: "We've had five computer systems over the years. But our Strat-O-Matic has lasted 40 years and hasn't broken down once. I saw it in a library back then and knew right away I had to have one."
I wanted one too; really bad. All that organization potential made my head spin. But where would I find a million pieces of information to fill it? Perhaps I could start cataloguing my friends and relatives. After my trips to Los Angeles I'd go to my Strat and pull out their thick card decks. For every occasion I'd write down the details of our visits. Yes, there'd be those days every now and then when I would write: Bought nothing. But then there'd also be those subtle moments I'd savor: the slightly overcooked asparagus she apologized for, kicking my foot under the table when he thought I was carrying a joke too far, and the childhood embarrassment finally explained.
Good relationships are filled with these moments. And they need to be catalogued.
View Most Recent Story
:::
Notify me when there's a new missive!