August 31, 2008
A Contemporary Family Vacation: A Chinese Family Reunion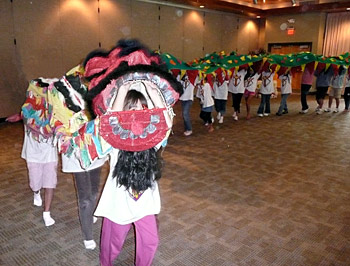 Children practice a dragon dance at Yangchun Family Reunion (Click here for larger photo).
We belong to an interesting family. Our girls were both adopted from the Yangchun Social Welfare Institute in China. And it was time for our quadrennial family reunion. This was the impetus for our Pacific Northwest sojourn.
Yangchun, a "town" of just over a million people is about a five hour drive from Guangzhou. Every four years families who've adopted children from the orphanage there gather to celebrate our children, discuss issues associated with adoption and transracial families, and to just have a good time. This year we met in the foothills of Mt. Hood. And, as she has done the previous three times we've gotten together, orphanage director Yu Hong Ying came from China along with her boss, Mr. Chen, to share this time with us.
In the world of Chinese adoption we're a tight group. While many families who've traveled together to adopt their children stay in touch, I don't know of any group more organized than those of us from Yangchun. This year there were 71 families in attendance, including 86 girls and one boy. With each gathering there are new families and veterans to connect and reconnect with. Attending the first reunion when our girls were 4 and 3, our children are now 11 and 10 and the interests, concerns, and our girls' reactions to these get-togethers change each time.
Mrs Yu is at the center of our community. She is a magnet to families, each seeing her at an important link to our daughters' beginnings. This trip she and Mr. Chen first flew to Washington, DC. Staying with friends of ours I got a call at work that they were sightseeing just a few blocks away and I volunteered to take them on an impromptu tour of our newly renovated museum. "Meet you on the corner of F and 9th Streets in five minutes," I said when I got the call at my desk.
As I got closer I could make out the group and waved. As they crossed the street suddenly Mrs. Yu recognized me and began yelling my girls' Chinese names. Given the number of children who have been adopted from this orphanage, parents are always amazed at the Director's ability to remember names and faces. Even though she doesn't speak English we are never at a loss for words. "He's gained a little weight," she said to our interpreter, as she gave me a hug. We laughed (but I vowed to wear my tighter jeans the next day when we'd see them at a party for other DC and Baltimore families). It became the running joke between us her whole stay. And in Oregon she recanted, saying she really meant I looked very fit. Hmmm, ok, I'll go with that. We laughed. Who hasn't changed in the decade since we first adopted our two girls?
Things have changed in Yangchun. Clip from a promotional "Chamber of Commerce" video. Click movie to begin. (Quicktime, 35 MB)
When we first went to China in 1997 Yangchun seemed like an exotic backwater destination, far from any tourist route. We stayed at the only hotel open to foreign visitors at the time, The Golden Roc, where the second floor doubled as a brothel. The city was decidedly third world. And it was clear that very few Western visitors came this way.
Then there were about 100 children at the orphanage. The living was spartan but it was obvious the girls were loved and well taken care of. Two years later, when we went to adopt our second daughter, a new building had been built for the children and the old one was now home to many retirees. Last year they built another new building. And, now the number of children generally hovers around 50. Domestic adoption is more commonplace in China and Mrs. Yu told me economics is starting to change the way couples see their infant girls. With the rise of personal income and the rise of economically independent women, parents feel their daughters, like their sons, will be able to care for them when they become older. The importance of having a son is no longer as paramount as it used to be.
During the Olympics Beijing became the showcase for modernization in China. Yet, one wondered just how that change had filtered down to the rest of the country. Watching a recent promotional video about Yangchun it was clear this was no longer the place we last saw in 1999. When I questioned the incredible alteration of the city to other parents at the reunion, those who had recently visited corroborated what I was seeing on the television. Yangchun has changed.
Many families have returned to China to "introduce" the country to their children. We're planning on doing the same in the next couple years. We want our girls to get to know where their lives began and the culture and history that's part of them. I took my own video of the city on our two visits to the area. My images sharply contrast to what I see now. My girls will be able to make their own comparisons and judgments. Mrs. Yu will be our conduit between the past and this new present. And she'll be happy to see part of the family again.
Next stop: The Columbia Gorge and the Wine Country of the Yakima Valley
Related Posts: Waiting for the Love Boat on Puget Sound and A Contemporary Family Vacation: The Velveteria.
View Most Recent Story
:::
Notify me when there's a new missive!
Comments
Comments are now closed for this post. But there are a few other entries which might provoke an opinion or two.