August 17, 2008
Waiting for the Love Boat on Puget Sound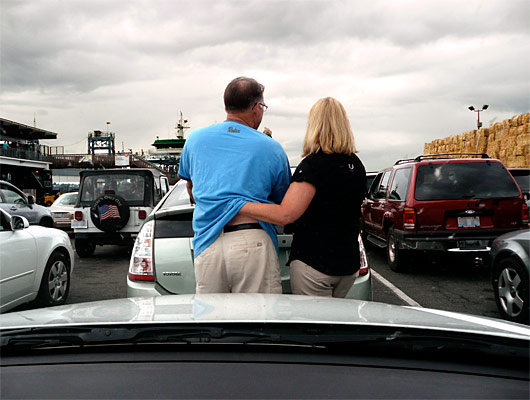 The Gates/Krasnican clan has just returned from another triumphant family road trip —this time to the Pacific Northwest. I'll be collating our collective memories in the next few weeks and reporting on how things went.
But for now let me wet your appetite with this digital morsel. Ever the photo raconteur and all-around Peeping Tom, I spied this couple who just couldn't wait for their private berth on the thirty-five minute ferry voyage from Seattle to Bainbridge Island. Get a room people! All ferries on the Puget Sound have been rated PG for years.
Ok, I was daydreaming. There's not much to do while you're waiting for your ship to come in.
Related Posts: Reminisce about last year's road trip from Las Vegas to San Francisco via Yosemite and the Gilroy Garlic Festival beginning here.
View Most Recent Story
:::
Notify me when there's a new missive!
Comments
Posted by: Nina on August 17, 2008 4:10 PM
Comments are now closed for this post. But there are a few other entries which might provoke an opinion or two.