May 11, 2008
Mary A, His Wife; Bonnie Jean, Their Daughter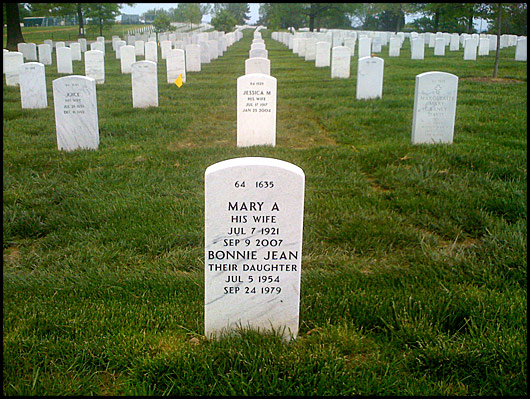 Reminiscent of another photograph. Click photo for larger image.
Recently, a friend from out of town came to visit. She wanted to go to Arlington Cemetery to visit her father's grave and she invited us to go with her. As I stood looking over the rows and rows of tombstones by her father's grave I turned around and saw a familiar sight. Looking around I discovered it isn't only wives who can be buried next to their military husbands, but husbands of military wives, daughters, sons, grandchildren and even stepchildren.
View Most Recent Story
:::
Notify me when there's a new missive!
Comments
Comments are now closed for this post. But there are a few other entries which might provoke an opinion or two.