February 9, 2008
A Bathroom Apparition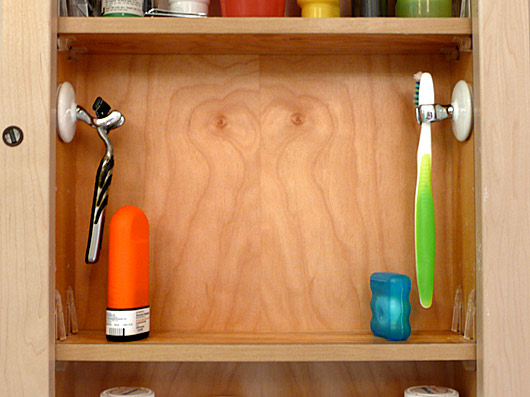 Get a better look at our bathroom vision!
Six months ago we renovated our bathrooms. That fifty year old retro look we loved when we bought the house was really getting old. Our green tub, along with its matching sink and toilet had lost their luster. And a complete bathroom redo was in order.
Suddenly, this weekend, when I opened our beautiful new wood veneer medicine cabinet I spied an apparition —a vision— but from who or what? A controversy is brewing as to who is trying to contact us.

Who was trying to contact us? What do you think? Click each image to get a better look.
I immediately thought it was E.T. But when I showed my wife, she started to laugh. "That's ridiculous. THAT is a nude woman," she said. "Definitely." Expert museum curators concurred. "Look closely at the German Expressionsts," they said. Maybe it's a message from Edvard Munch. Or better yet, a long-lost woodcut from the master of angst (we could use the money for our upcoming kitchen renovation). Net cognoscenti vehemently disagree: "It's definitely a religious revelation from the Church of the Flying Spaghetti Monster". A sign indeed; but what could it mean?
SciFi fans, bloggers, and art dealers are starting to line up in front of our house to pay homage to our vision. This is much bigger than the woman who saw the Virgin Mary in her grilled cheese sandwich. And much more valuable. Definitely much more valuable.
Of note: Today marks the seventh anniversary of Life Outtacontext. Some of my favorite posts can be found on the right, under PICK OF THE CROP.
View Most Recent Story
:::
Notify me when there's a new missive!
Comments
Posted by: Nina on February 9, 2008 1:15 PM
Posted by: Carol on February 9, 2008 3:25 PM
Posted by: David Barrett on February 9, 2008 4:48 PM
Posted by: Marshall on February 9, 2008 5:32 PM
Posted by: Mark on February 9, 2008 7:04 PM
Posted by: andy on February 9, 2008 10:25 PM
Posted by: Jeff on February 10, 2008 8:24 AM
Posted by: Howard on February 18, 2008 11:43 AM
Comments are now closed for this post. But there are a few other entries which might provoke an opinion or two.