August 25, 2007
A Contemporary Family Vacation: The Eastern Sierras
Some people are so nuts. They think every body of water is a wishing well.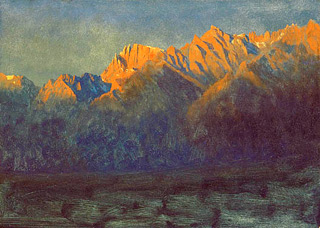 My vision of what my children would see when they first viewed the Sierras. The reality wasn't quite like that. Albert Bierstadt's Sunrise in the Sierras, courtesy of the Smithsonian American Art Museum
The drive from Las Vegas to the town of Lee Vining, the "gateway to Yosemite," would be the longest drive of our trip: six hours, give or take a rest stop or two or three or four.
Susie and I had prepared as much as two parents could for the day ahead. Gameboys and travel versions of our girls' favorite board games were conveniently accessible. We had entertained the notion of buying a portable DVD player but just couldn't make ourselves go down that road. After all, the purpose of this "drive by" was to show our children the wonders of the West. Living in the former swamp that is Washington, I miss the mountain vistas of my youth. Passing this appreciation on to my children was important.
All was going according to plan until we got about an hour from our destination. Suddenly, my youngest announced she was about to throw up. The first and only other time this had happened was last year while driving the winding roads of Puerto Rico. Back then it had caught us completely off guard. And we were most relieved to return a prestine rental car by the time we left the island. We didn't want to have this on our conscience this trip.
This time we flew into automatic pilot. Immediately upon Susie's command I pulled over (the long and empty road cooperated). She jumped out and opened the back door. My daughter leaned out and all was once again just as I envisioned our family road trip would be. For the rest of the journey we allowed the girls to roll down the back windows for some fresh air while we blew the AC to the front. "Whatever works" is the parents' first rule of survival. But a note to myself: next time bring a roll of paper towels and a big plastic bag. You know, for emergencies.
Panorama of Mono Lake (View larger image)
Immediately upon our full recovery we arrived at Mono Lake, our first close-up taste of the Western landscape. After the long drive everyone was happy to get out of the car for a bit of exploration. The serene and placid waters with the lake's majestic tufas submerge the man-made political issues that defined the body of water that lay before us. The diversion of Mono Lake water was directly responsible for the growth of the city I grew up in, specifically the San Fernando Valley where I lived. As we walked along the shore I gave a brief history lesson on water use and the early 20th century politics of Los Angeles.
The sand flies that feed on the lake's shore provided a first for the girls: no fear of insect swarms as we walked along the beach (it helped that the flies didn't bite). And we were rewarded for our nature walk with a huge and long-lasting rainbow on the eastern horizon. I was surprised by my family's interest in this landscape. Given the unreal reality we had just left in Las Vegas, all of us made the transition to the real world nicely. (View additional Mono Lake images I took on our trip.)Image 2Image 3Image 4
We had been preparing our nine year old for the next day for weeks. We would be exploring one of the largest noncommercial ghost towns in the West, Bodie. And we had to reassure her that there were no actual ghosts walking its streets. A short drive from our motel in Lee Vining, by the time we arrived she was fully in control of her imagination. But it was there I suddenly discovered a silly little secret about contemporary travelers: when given a chance they will throw money as a benefaction just about anywhere. In Las Vegas we noticed that any body of water became a "wishing well." From the lagoon at Treasure Island to the Belagio's huge fountains, any H2O could potentially answer one's prayers. But in Bodie, this was taken to extremes.
Ghostly bedrooms, now sequestered behind protective mesh, held an abundance of cash, tossed in by passing tourists. And the town's church, no longer in need of offerings, became currency pitchball to see how close to the last pew one could cast coins and bills. For the rest of the trip, whenever we encountered this phenomenon my children would repeat my words in unison: "Some people are so nuts. They think every body of water is a wishing well."
Related posts: A Contemporary Family Vacation: Introduction, Living La Dolce Vegas, and Because I Could
View Most Recent Story
:::
Notify me when there's a new missive!
Comments
Comments are now closed for this post. But there are a few other entries which might provoke an opinion or two.