August 18, 2007
Living La Dolce Vegas
Landing in Las Vegas at night is a bit like landing at National Airport in DC: an incredible view of the city beckons you. McCarren International Airport is just south of The Strip. So our first look at the city lights came from our airplane's window. Despite our destination's proximity to the airport it would be two hours before we finally arrived at Treasure Island, our hotel. Baggage Claim, Rental Car, and finally the 24/7 traffic jam of Las Vegas Boulevard took precedence. After our ten hours of airplanes and airports we were hypnotized by the lights of the The Strip. And it wasn't until two days later as we drove north to our next stop in the Sierras that we realized there was a real and quite normal metropolis just beyond these lights.
Looking out our hotel window the next morning was like taking in a view of each "land" at Disneyland. You had your Italian Renaissance Land courtesy the Venetian across the street, Francoland as seen by the Paris' iconic Eiffel Tower replica, and Ancient Rome Land at Caesar's Palace. My nine year old daughter immediately announced "It's better than Disneyland!"
We had intended to go to Hoover Dam while in the area. But after experiencing the canals of pseudo-Venice and "St. Mark's Square" at The Venetian, we wanted more of that man-made reality. So we spent our two days walking from casino to casino, marveling at the wonders of the Sphinx at the Luxor, the skyline of New York, New York, and the white tiger at the Mirage. We must have walked fifteen miles that first day.
It wasn't all fake postmodern pastiche. Our need to keep our feet in reality took us to an exhibition of Picasso's ceramics and stopped us in wonder at Dale Chihuli's glass sculpture installation (my wife studied with Dale), both at the Bellagio. And I took the opportunity to teach my oldest, a budding photographer, how to use fill-in flash to bring out detail when taking pictures in hotel lobbies. Yes, Las Vegas can provide some educational opportunities if you try.
We topped off our first day with a performance of Cirque du Soleil's Mystère. There are five different Cirque venues along on The Strip. I was interested in Oh and their underwater staging while my ten year old was interested in Love, their tribute to the Beatles. But invoking our first rule of family vacations: thou shalt be sensitive to others' phobias, we went with Mystère. Our oldest, after viewing each show's promo video, thought this performance would be the least likely to scare her younger sister who claims to suffer from coulrophobia, a fear of clowns (ok, but are there any traditional clowns at any Cirque?).
At 6:30 the next morning our youngest woke us gently reminded us we owed the girls a visit to the pool. She had miraculously overcome her "deep-end" aquaphobia earlier in the summer and was eager to demonstrate her swimming prowess. Given the heat of Las Vegas in July, we decided early morning would be best. Shortly after breakfast we made our way poolside. The girls swam while I showed my wife how she could effortlessly chart her stocks via my iPhone all from the comfort of her lounge chair (part of my devious wonderful plan to get her hooked on this tasty bit of technology).
Susie and I are always on the lookout for the consummate souvenir. We like kitsch, but it has to be good (so bad it's good). We had very high expectations for this city. If you can't find quality kitsch here, where can you? We were dumbfounded when, at the Luxor, we discovered they didn't have a pyramid-shaped snow globe (a family of collectors, my nine year old has a neatly arranged and catalogued case of them from our travels). A pyramid or sphinx with gently falling snowflakes would have been a natural and wonderfully ironic keepsake. Come on guys, get with it.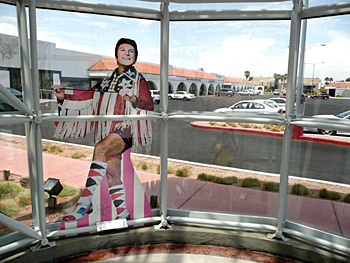 Kitsch nirvana at the Liberace Museum. I couldn't have said it better. (Must be seen large to really appreciate.)
Our hopes and souvenir dreams were realized, however, when we arrived at the Liberace Museum. The Liberace Museum IS so bad it's good. The whole place is one big beautiful nexus-o-kitsch. Of course, look who they had to work with. It resides in a strip mall and I took the best picture of the trip at its entrance, something that summed up my experience perfectly: the camp of the performer with the backdrop setting in which he is remembered. That, in itself, is a great souvenir. I bought a chocolate Liberace "CD" (in a jewel case, natch) as an ephemeral remembrance of our visit, hoping to get it home intact. But when I next pulled it out of my backpack to show my sister a few days later it was a melted mess.
While Vegas has submerged its seedier side in an effort to draw families, it still exists. Hawkers pass out handbills for strip shows on the street. That was pretty easy to navigate. And the "adults only" bars and lounges are clearly marked. However, the nightly "Sirens of TI" caught us off guard.
Our girls were eager to see this free extravaganza which takes place four times a night in front of our hotel. The story is simple (and I wished I had read this before our visit):
The Sirens of TI ® begins with a 17th century clash between a group of beautiful, tempting sirens and a band of renegade pirates. With their mesmerizing and powerful song the Sirens lure the pirates to their cove, stir up a tempest strong enough to sink a ship, and transform Sirens' Cove into a 21st century party. Experience music, dance, excitement and seduction…
The Sirens of TI Web Site
Like these renegade pirates, Las Vegas' Disneyfied edifice had lured Susie and I into forgetting what had built this city. We were surprised that such a stereotypical sexist message was so blatantly displayed in the amusement park-like atmosphere at street level. We assumed it was family-oriented since it was in a public area directly in front of our hotel. To be honest, the girls enjoyed the show for its special effects. But it wasn't the Las Vegas we expected to see. We'll stick with the Cirque du Disney version for now.
Next stop: The Eastern Sierra, gateway to Yosemite
Related posts: A Contemporary Family Vacation: Introduction and Because I Could
View Most Recent Story
:::
Notify me when there's a new missive!
Comments
Comments are now closed for this post. But there are a few other entries which might provoke an opinion or two.