July 7, 2007
iPhone Lust-O-Meter Bursts!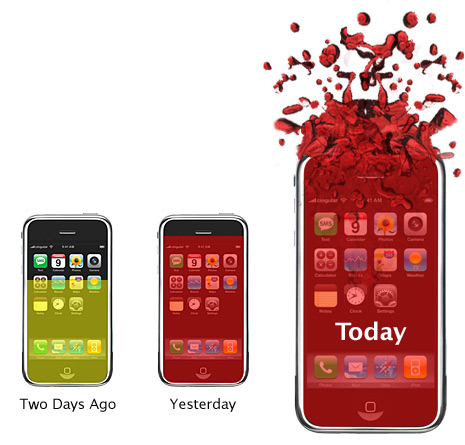 Life Outtacontext's iPhone Lust-O-Meter Bursts
It was too much to bear. The pressure, as you know, has been building for a week. The outcome seemed inevitable. Yesterday, my neighbor, Mike, offered to "show me his." And, as we sat in his living room, festooned with techno-goodness, he let me take his iPhone for a spin (the irony of demo'ing that little thing as we sat in front of his large-screen LCD hi-def TV did not escape me).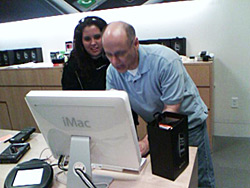 Jeff demo's his Lust-O-Meter to the Mac Genius. Photo by Mike Lee.
When he offered to drive with me to our local Apple store, that was it. It didn't take much, just a nudge with his little pinky. Using his iPhone to call the store to check availability we were off. On the way, I thought I'd better call my wife, just to let her know where I was. You know, in case of an emergency.
This morning, with my new life waiting for me right next to me on my night table, I turned over, said "good morning," and checked my email from bed. Ahh, to be in love.
Related Posts: Initial Lust-O-Meter reading and the numbers from two days ago.
View Most Recent Story
:::
Notify me when there's a new missive!
Comments
Posted by: Aaron on July 8, 2007 11:13 AM
Posted by: Donna on July 8, 2007 11:33 AM
Posted by: Abi on July 8, 2007 4:20 PM
Posted by: Jeff on July 8, 2007 5:05 PM
Posted by: Gedeon on July 8, 2007 11:12 PM
Posted by: Jeff on July 9, 2007 8:08 AM
Comments are now closed for this post. But there are a few other entries which might provoke an opinion or two.