July 5, 2007
Today's iPhone Lust-O-Meter Reading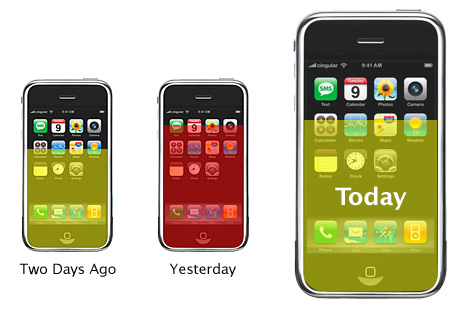 Life Outtacontext's Current Reading on its iPhone Lust-O-Meter.
I have determined there is a direct correlation between iPhone Lust and physical proximity with the device. Handling an iPhone increases the desire to own one in direct proportion to the length of time it's played with, I mean, used. In addition, watching a demonstration, even on TV, also increases one's desire.
Since yesterday was a holiday, and my direct contact with the iPhone and my TV viewing was nil, my lust level has declined over the last 24 hours. Today's Washington Post review of the phone here and here, while good in most respects, still had a leveling effect on my emotions.
Related Post: Yesterday's Lust-O-Meter reading.
View Most Recent Story
:::
Notify me when there's a new missive!
Comments
Posted by: Donna on July 7, 2007 12:04 AM
Posted by: Donna on July 8, 2007 2:53 AM
Comments are now closed for this post. But there are a few other entries which might provoke an opinion or two.