June 30, 2006
American Art Reopens Tomorrow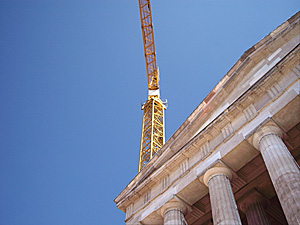 The Patent Office Building, which houses the Smithsonian American Art Museum and the National Portrait Gallery, is about to receive visitors.
After a six and one-half year hiatus for renovations, the Smithsonian American Art Museum reopens tomorrow. As a personal benchmark, my oldest daughter, now almost 10, was just a wee three when we closed in January 2000. A lot has changed both at home and in the museum.
In the days leading up to the opening festivities we've been blogging up a storm over at Eye Level including this slide show of pics from our pre-opening Gala. Thanks for your rave review of our staff, Wonkette.
Tomorrow we will be going live for an all-day blogfest. If you can't be there in person, join us online.
View Most Recent Story
:::
Notify me when there's a new missive!
Comments
Comments are now closed for this post. But there are a few other entries which might provoke an opinion or two.