July 17, 2005
A Birthday Present from Apple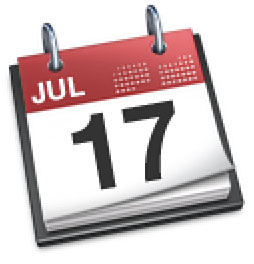 Apple's iCal application icon displays my birthday.
I get that little tingly feeling (yes, tingly!) every time I see this icon on a Mac user's monitor. It's for Apple's calendar program iCal. And I feel like every iCal user is talking to me.
Ever wonder why this icon displays July 17 on your desktop? At first I thought every Mac user's birthday was displayed on this icon since July 17 is my birthday. What a nice touch. That Apple! Always taking the computer experience one step beyond. Microsoft would never think to do this bit of PR. I figured the display used some user identification we all had to submit when we registered our computers.
Then, as I made my rounds around the office, I discovered that every Mac was displaying July 17. It was as if all of you were remembering my birthday. It felt so nice to be loved by everyone. And it was a birthday gift I got all year round.
Only after a solid year of this non-stop party did I began to delve into this a bit deeper. I don't ordinarily use iCal so I wasn't familiar with its ways. As it turns out July 17 is only displayed in the application's closed state; when open the icon displays the actual date.
But why July 17? Was it Steve Job's birthday too? Or perhaps it was the birthday of iCal's project manager. A nice perk for a job well done.
I started to investigate. I wrote various computer cognoscenti. But no one seemed to know the origin of this icon —not even Susan Kare, the "mother of the original Mac icons."
I decided to call Apple. After numerous dead ends I found the number for their PR department. Using my expert investigative abilities I posed this piercing question to the woman on the other end of the line: "So, why July 17?" I wanted to think, I was hoping the reasoning was special. But as it turns out the origins of this icon are much more mundane and bureaucratic: iCal debuted on July 17, 2002 at the MacWorld Expo in New York.
Today, the program is ubiquitous on this side of the great computer divide. But as it turns not everybody is happy with Apple's choice of July 17. While the date has major significance to me, it doesn't to others who are sometimes confused by its display. The poster to one message board offers a way to eliminate the date altogether. Tisk, tisk.
To others of like mind, Ken offers sets of replacement iCal icons with your own birthdate and in various colors. And for those of you who would like iCal's icon to always show the correct date, opened or closed, Greggo offers this scripting solution.
Personally, I like it just the way it is.
• • •
One of the best birthday gifts I've ever received was given to me by my oldest daughter three years ago when she was five. She lost her first tooth on my birthday! While at work I received this voicemail on my phone (Quicktime, 6.7 MB). For once I was glad I missed her call. Otherwise I wouldn't have this audio document for posterity.
I never get tired of listening to this message. But voicemails are only saved for 30 days in our system so I wanted to find a high quality way of recording her announcement (via a devise plugged directly into the phone). Unable to find a phone with an "audio out" port, each month for the last three years I have had to make sure I renew the message or it would be erased forever. When prompted I carefully listen and then wait for the archiving instructions. I know that pressing 9 will save it in the archives for another month. But I want to make sure I don't accidentally press the wrong button. So each month I listened intently to these directions.
I could never find that direct recording setup. So a couple of months ago I just put a microphone right to the speakerphone. The recording turned out pretty well considering my low tech solution.
But I still press 9 once a month.
• • •
Postscript: I wrote this piece last Sunday morning. Later that day my 8 year old and I took a ride on our bikes down one of the local bike paths. She's just learned to ride a two-wheeler and is pretty proud of herself. She's still a bit wobbly on "take off" so we take it slow.
About a mile into our ride, suddenly she headed for a tree. In trying to right herself she fell on her handlebar. Not a scratch on her, it initially appeared she just had the wind knocked out of her. But within minutes it was clear this was a bit more serious.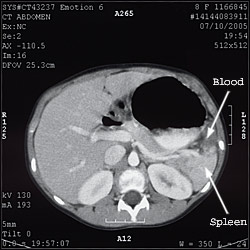 My daughter's CAT Scan. During medical emergencies I always ask to see the evidence. Being a photographer it calms me when I can visualize the trauma.
After a bad fall two years ago I started taking my cell phone on my weekly rides. I was glad I had it now. I called my wife who picked us up and drove immediately to the ER. Seven hours and one CAT scan later we found out she had lacerated her spleen in the fall.
It was a surprise to the doctors as her blood work and color looked just fine. We were glad we were there. In the past, they would "routinely" remove the spleen. But they've found that if left alone it will heal itself. They immediately medivaced her to Children's Hospital in DC for observation. They wanted her near a surgeon just in case she needed one.
Two days later we were home. It seemed like two weeks. My daughter is a bit sore but intact (now it only hurts when she laughs). This freakish accident is a parent's worst nightmare. As they grow up letting go is hard. I saw her fall so proximity doesn't necessarily insure a safety net. No contact sports for the next three months. Doctor's orders (if I had my way there'd be no contact sports forever).
Needless-to-say today I am reminded of THE BEST gift I've ever received.
[ July 17, Macintosh, iCal, Web Design, Bicycle Accident, Medical Emergency ]
View Most Recent Story
:::
Notify me when there's a new missive!
Comments
Posted by: Elenita
on July 16, 2005 10:10 AM
Posted by: Carolyn on July 16, 2005 11:18 AM
Posted by: Rob on July 16, 2005 12:22 PM
Posted by: Jake on July 16, 2005 12:38 PM
Posted by: Katie Dixon on July 16, 2005 1:49 PM
Posted by: jon Turner on July 17, 2005 2:22 AM
Posted by: hiltontoe on July 17, 2005 10:32 AM
Posted by: ralph bunker on July 17, 2005 12:41 PM
Posted by: Neil Turpin on July 18, 2005 3:29 AM
Posted by: Scott Johnson
on July 18, 2005 3:52 AM
Posted by: Denis Defreyne on July 18, 2005 5:26 AM
Posted by: Jeff Lang on July 18, 2005 8:25 AM
Posted by: Daynah on July 18, 2005 1:41 PM
Posted by: Nathan Colgate on July 18, 2005 5:49 PM
Posted by: Jeff
on July 18, 2005 8:09 PM
Posted by: Jay Rubin on July 18, 2005 9:02 PM
Posted by: Justin on July 19, 2005 3:54 PM
Posted by: Daniel on July 19, 2005 4:46 PM
Posted by: Phil on July 20, 2005 7:48 PM
Posted by: Kriston on July 21, 2005 12:40 PM
Posted by: Aaron on July 25, 2005 12:24 PM
Posted by: Donna on July 26, 2005 12:45 PM
Posted by: Melanie on September 5, 2005 10:18 PM
Comments are now closed for this post. But there are a few other entries which might provoke an opinion or two.