May 23, 2004
A Close Encounter of the Political Kind
The Mrs. and I were invited to the Veep's house this past week to celebrate the 40th anniversary of the Art in Embassies program. That's Dick and Lynn Cheney's temporary abode.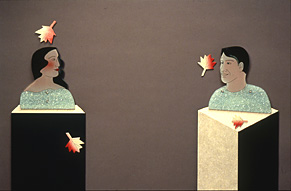 The real Ambassador in Moscow: Adam & Eve, ©1989, Susie Krasnican, glass
Forget exporting troops to distant foreign outposts. Art is our best missile defense system. And artists are our most accomplished and eloquent ambassadors. Susie has a piece in the Ambassador's residence in Moscow.
I am a humble Web hack and artist-raconteur. Where in the world can politico sightseeing and hobnobbing be so imbued with power? Especially in these times. It was not my first encounter with the Republican powers-that-be. And I wondered what type of opportunity I might have to affect public policy. On the other hand, I also considered the weather this time a year in Guantanamo.
I prepared a list of questions.
The house and grounds of the Naval Observatory are beautiful. We were informed this is the "temporary" home of the Vice President. Gerald Ford was the first to live there after Admiral Zumwalt (of Vietnam War fame) decided to retire. An act of Congress made the real estate deal complete. But it's only a rental. The Navy still remains the landlord.
Susie and I agreed we could live there. Our girls would have a large area to run around and my 7 year old could finally have her pony. I think I need to talk to Kerry. You know, let him know I'm interested.
The good news: I passed through all three security checks. I guess my FBI file isn't what I thought it was. The bad news: while there's lots of art on the walls, none of it is cutting edge, reflecting contemporary political discourse. It was more mainstream like the huge Helen Frankenthaler sitting over the mantle. Extreme Abstract Expressionism is in vogue with this administration. Realism was nowhere to be found.
There is an interesting map of Wyoming hanging in the sunroom (the state being the official home of the Cheneys). It was a strange map, though, full of little towns called "Undisclosed Location." Where's that, anyway?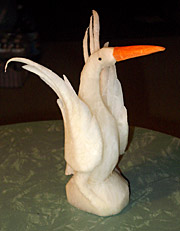 We went to the Veep's house and all we got was this chicama swan. No answers.
Mr. Veep was a noshow. Mrs. Veep was there and we briefly talked just after she made some public remarks. Tall burly aides stood at attention along the edges of her perimeter.
The reception was proper. There was lots of alcohol but the eats were miniscule. A ploy, as it turned out, to anesthetize the left-leaning artists in attendance. My questions remained unasked and unanswered. Instead, little canapes served by Navy Seals posing as servers became our focus. We were hungry. So typical of this administration.
Each tray had a vegetable carved into a little animal (no elephants). Before we left I asked one of the Seals if I could have one. I brought home a chicama swan with a carrot beak as a souvenir for the kids.
We were a bit tipsy when we left (not so much that we actually slipped the suggested $2000 in an envelope with the GOP's return address). Ha! They really didn't know who they were talking to.
I found a disgarded pacemaker in the bathroom.
View Most Recent Story
:::
Notify me when there's a new missive!