January 22, 2009
Celebrating with a Few Million Friends:
The Inauguration of Barack Obama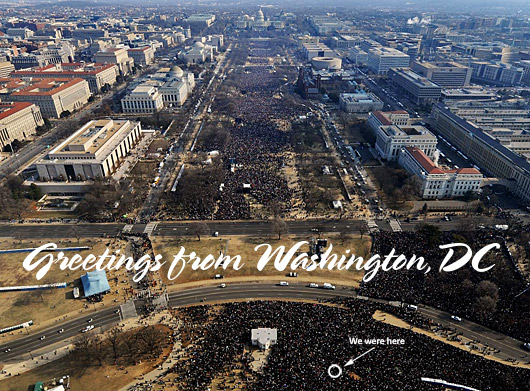 A "postcard" view of the Inauguration taken from the top of the Washington Monument. The circle marks our spot on the Mall. Click image for larger view. (The original can be found here.)
My twelve year old daughter and I got up early to catch the Metro downtown to Barack Obama's Inauguration. We didn't know quite what to expect. No one did. There were numerous unknowns: how many millions would crowd the Mall that day, would the Metro be able to handle the heavy traffic, and where would the best vantage point be to witness the festivites. But I had to go and I wanted to bring my daughter. She's at the age when she's aware of cultural and political events and has started forming strong opinions about them. This would be something she would remember.
The Metro platform was full of people but the cars were relatively empty when we got on. As we moved towards downtown they quickly filled. The atmosphere was celebratory, like we were going to a homecoming football game. In the last few months we had all been rooting for the same team and this was our party.
We met friends at a Starbucks close to the Mall and walked the short distance towards the Washington Monument. After scouring all the printed Inaugural primers, this was part of the deployment plan my friend Randall and I devised a few days before. The stream of people moving towards the Monument was fairly light at 8 a.m. and surprisingly, we found no security checks at the perimeter, just a volunteer who welcomed us as we walked in. This was in stark contrast to our expectations (and the warnings of the Secret Service) and the experiences of those closer to the ceremony in the ticketed areas. We staked out our place on the eastern slope to the Monument in close proximity to a Jumbotron, facing the Capitol about a mile away.
With three hours until the kickoff, my daughter and I went exploring and photographing. The landscape was filling with people. And I was beginning to feel wrapped in a sea of left-of-center love. By the time we decided to return to our places we had to go against a human tsunami trying to get as close to the action as possible. Along this path I photographed some of the people, the law enforcement, and the media we encountered.
During huge events like this I like to photograph the periphery. That's often where all the interesting visuals are happening. But unlike four years ago when I photographed George Bush's second Inaugural, moving around, let alone finding those edges was impossible. Too large and too crowded. Instead, I focused on those in close proximity.
Different, too, from four years ago was the atmosphere of this event. Very few protests, it was more of a true celebration for change. I could feel that relief as I chatted with those around us. We clapped when various dignitaries were announced. And we began singing Steam's song "Na Na Hey Hey Kiss Him Goodbye" when Bush arrived on the dais. Joy. After eight long years 01 20 09, Bush's last day, had finally arrived.
When the moment for Obama's swearing in came, rather than face forward, I turned around to capture the reaction of those behind me. And then I hugged my daughter.
Additional Images: You can see the rest of the photographs I took at the Inauguration here. I'm still culling my images for a few more gems.
View Most Recent Story

:::

Notify me when there's a new missive!
Comments
Posted by: Nina on January 22, 2009 1:35 PM
Comments are now closed for this post. But there are a few other entries which might provoke an opinion or two.