February 5, 2012
Are You Better Off Than You Were Four Years Ago?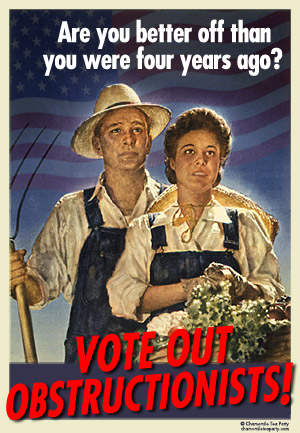 The latest poster from the Chamomile Tea Party. Click on image for larger view. (Not only is this a remix of a World War II-era poster this is a remix of my first Chamomile Tea Party poster. And aside from the text, I've made some subtle changes in this new one. Can you see them?)
Pulling this country out of the Wall Street-induced recession has been glacial. To a great extent it's because the Republicans aren't that interested in solving America's problems as much as making sure that Barack Obama is a one-term president. This is Republican Senate Minority Leader, Mitch McConnell's stated goal.
He's not alone. Recently, GOP Senator, Mike Lee, of Utah said he would obstruct all of President Obama's judicial and government agency nominees in the Senate, even though these nominees have bipartisan support.
This behavior is unconscionable. We must move forward to help Americans in need and to compete in the global economy. We need to elect people from both parties who will work together towards these ends. Extreme ideology and obstruction have no place in American government now. Vote out the obstructionists!
For further reading on the nature of polarization in American political discourse today, take a look at this review of two books in the Washington Post: Disconnect: The Breakdown of Representation in American Politics by Morris P. Fiorina and Samuel J. Abrams and The Disappearing Center: Engaged Citizens, Polarization, and American Democracy by Alan I. Abramowitz.
This poster has been produced in high resolution and is available for free download. Print it out and pass it around. If you like it, share it on Twitter and FB.
See all the posters from the Chamomile Tea Party! And join our Facebook group
View Most Recent Story
:::
Notify me when there's a new missive!