August 2, 2007
Gephyrophobia: A Prophetic Fear of Bridges
Fear of bridges is a relatively common phobia although most people with it do not know they have something called "gephyrophobia"…

Phobic drivers may worry about being in an accident in busy traffic or losing control of their vehicles. High bridges over waterways and gorges can be especially intimidating, as can be very long or very narrow bridges.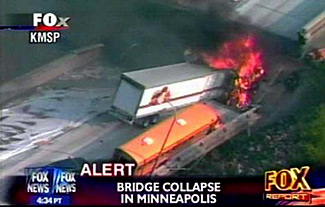 I-35 Bridge Collapses in Minneapolis
I've never been afraid to drive over bridges. However, when I traverse the long Chesapeake Bay Bridge I have always taken note of signs that inform drivers with gephyrophobia that they can hire someone else to drive their car and themselves over for them.
When I lived in Minneapolis in the mid 80s I had a girlfriend who was terrified of driving over one. And now that I think about it, she was afraid of this very bridge over the Mississippi. She was especially concerned she'd be caught in rush hour when traffic might stop her right in the middle of the span. I always thought that was irrational as most phobias are. Prophetic might be another way of describing her fear now.
Malka, I haven't seen you in over twenty years but I hope your feet (and car) were planted solidly on terra firma yesterday afternoon along with the rest of my Minneapolis friends. I'll think of all of you next week when I make my next crossing of the Chesapeake.
Update: The Washington Post weighs in on Gephyrophobia.
View Most Recent Story
:::
Notify me when there's a new missive!
Comments
Comments are now closed for this post. But there are a few other entries which might provoke an opinion or two.