February 28, 2007
Running into Politics
Hey wait can I borrow your cape
The leader is nowhere to be found,
And if you wake up his fans
You will not hear a sound.

Bobby Bare, Jr.
Borrow Your Cape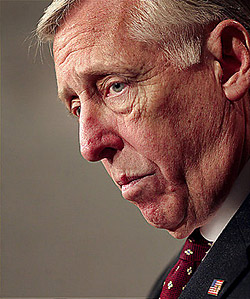 House Majority Leader Steny Hoyer
Guess who I ran into yesterday —literally? Steny Hoyer, Democratic Majority Leader of the House. Well, he actually ran into me. He was walking down 9th Street just as I was on my way back to my office after lunch. Synchronously, a nice bio article had just appeared that morning on Hoyer in the Washington Post. I had been moved by the piece's portrayal of his life and slow rise to power. Perseverance is a quality I respect.
As I was listening to Bobby Bare's "Borrow Your Cape" (iTunes link) on my iPod I spied him coming down the street. Taller than I thought, he was, of course accompanied by his two Secret Service handlers.
My Hollywood upbringing has taught me to pretend I don't know celebrities on these chance encounters. But that wasn't the case with the woman walking in front of me. She, too, recognized the Congressman and when she said his name out loud, he stopped to shake her hand in the most natural of political postures. As he turned around to continue his walk, he walked right into me.
This was not the first time this has happened. I've been hit by the best and worst of them. In 1990, as an Arts Administration Fellow at the National Endowment for the Arts, I sat in on Congressional hearings on NEA contributions to the Right Wing's notion of degenerate artists. One morning, as the hearing came to an end, Ted Kennedy bent over to pick up something he had dropped on the hearing floor. When he returned to eye level he knocked right into me.
And, of course, how could I forget my most chance political encounter with then Attorney General John Ashcroft on Pennsylvania Avenue?
Everyone should bump into their politicians now and then. It brings them down to size and makes them real.
View Most Recent Story
:::
Notify me when there's a new missive!
Comments
Posted by: ralph on February 28, 2007 9:10 PM
Posted by: Lila on February 28, 2007 10:39 PM
Posted by: Katharine on March 1, 2007 8:06 AM
Posted by: Greg on March 1, 2007 8:48 AM
Posted by: Jeff on March 1, 2007 8:48 AM
Posted by: Jeff on March 1, 2007 8:53 AM
Comments are now closed for this post. But there are a few other entries which might provoke an opinion or two.