December 31, 2006
Washington, DC: a Tropical Paradise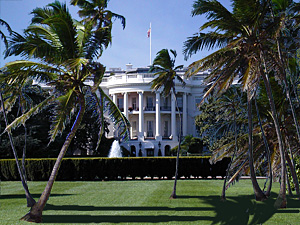 Palm trees will soon grace the South Lawn of the White House and life in the capital city will become serene and laid-back. Of course, a global warming rise of seven meters in the sea level would actually flood this part of the White House real estate.
A big chunk of the Arctic iceshelf breaks off near the North Pole. A beloved blogger is perplexed about the cold Southern California weather. And DC officially moves south into a more temperate climate. Is the end near?
Our copy of Al Gore's An Inconvenient Truth just arrived from Netflix so I'll let you know. But I have to say, part of me can't wait for permanent warm weather in DC. I miss the temperate Southern California winters of my youth (before we ever heard of El Niño). I love living in here but just a slight change in foliage would make it just perfect.
According to the USDA Plant Hardiness Zone Map, the Washington, DC metro area now resides in Zone 7, where the minimum temperature range is between 0 and 5 degrees Fahrenheit: too cold to sustain warmer weather plants and trees. But until recently we were in the colder Zone 6. All we have to do is move three more zones and we'll be able to join the other tropical and Mediterranean paradises of the world!
If only we could grow palm and eucalyptus trees our daily existence in Washington would be so much better. The warm trade winds rustling palm fronds and the sweet scent of eucalyptus wafting through the Metro: life in the nexus of global power would, well, mellow. The Supremes would turn in their black robes for tropical white. Former cantankerous political foes, from Left to Right, would work out their differences in Bermuda shorts and Hawaiian shirts (how can you be shifty and backstabbing in shorts?). And President Bush and our allies would discuss the mounting casualties in Iraq over Mai Tais.
I love the tall and straight Tulip Poplar trees that dot our front lawn. From our large windows we see only the trunks go straight up. It's like looking at a diorama in a natural history museum. I would miss that. But I wouldn't miss the seedpods that drop 100 feet, denting my car hood. I wouldn't miss the sap that rains down each spring eating away my lustrous paint job. And I certainly wouldn't miss the huge falling branches that just recently impaled my mother's-in-law windshield. No, I wouldn't miss that.
Global warming? No, keep the rest of the Earth just the way it should be. I just want a bit of Mid-Atlantic warming. Three temperate zones and a date palm grove on our front lawn ought to do it.
View Most Recent Story
:::
Notify me when there's a new missive!
Comments
Posted by: Mike Lee on December 31, 2006 10:24 AM
Posted by: Jeff on December 31, 2006 1:05 PM
Posted by: Dona on January 26, 2007 6:06 PM
Comments are now closed for this post. But there are a few other entries which might provoke an opinion or two.