October 8, 2006
On the Boardwalk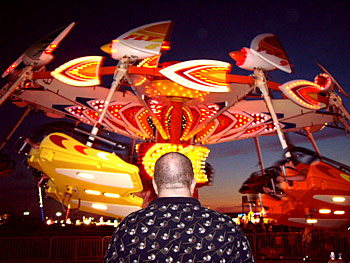 On the Boardwalk in Wildwood, NJ
Every summer my family takes a trip to the New Jersey shore. The beaches are wide and the orientation is decidedly family. But the highlight for me is Wildwood's boardwalk. We always reserve one evening to stroll in the cool night air just as the sun is setting.
And every year I take my camera to document the frenetic, color-saturated scene. It's people watching at its best.
After five years I've put together a slide show of some of the best from my hundreds of photographs (latest Flash plugin for your browser required).
Related Life Outtacontext Stories: Vacation 2001: West Meets East, a comparison of West Coast and East Coast Beach Experiences and A Vacation About Nothing, Sorta
View Most Recent Story
:::
Notify me when there's a new missive!
Comments
Comments are now closed for this post. But there are a few other entries which might provoke an opinion or two.