May 21, 2006
This Picture is Worth a Very Different Thousand Words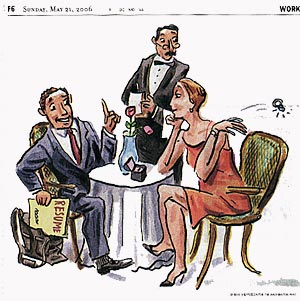 This illustration for a Washington Post article on social networking conveyed a very different story from the one it was supposed to illustrate.
I'm a visual person and have found my niche in life as a visual communicator. A picture can illuminate and extend the meaning of my words. Image and text are powerful partners.
This morning as I was reading the Sunday Washington Post I was thumbing through the Business section looking at pictures. Along with headlines, this is how I scan the paper every day, using the hierarchy of information to help me decide which articles are important to me. I came upon this illustration for a story on social networking. Intrigued, I decided to read the article.
The piece was interesting. But when I compared the information conveyed by the illustration with the information imparted by the article I did a double-take. The picture communicated a very different story and made me read and re-read to make sure I hadn't misread.
Mike Campbell went on a blind date through a connection he made on Match.com. At his suggestion they met at a sports bar but his date wasn't interested in sports and it seemed they had little in common. However, at one point his date began talking about a job at his company and Mike thought he might be interested. The article's point is that networking can take place even in social situations like this.
But what caught my eye were the details of Mike's encounter:
Campbell later told a friend about the date, mentioning that this guy sounded like he had a perfect job opening.
Wait, let me read that again: this guy sounded like he had the perfect job opening. Oh. Mike had a blind date with another man. Why was I so surprised? Because the illustration shows a man sitting at a table with a woman: a woman tossing her wedding ring.
The discrepancy between the information imparted by the article's content and its illustration was so great my attention focused on this rather than the subject of the article (that networking can take place in any social situation).
Add to that the already highly charged social and political context of the meeting (two men on a blind date) and one begins to wonder about the decisions being made by the Post's editorial staff. Were they trying to minimize or ignore the obvious? In addition, the picture is imbued with its own social context: a woman throwing away her wedding ring while "her date" pulls out his résumé. Does the Post mean to imply that a married woman would easily throw away her marriage for a good job prospect (even the waiter looks surprised)? Why not just show two men at the table?
In either case, the connection between the image and the text is misleading and confusing —so much so that I am writing about this disconnect rather than the subject of the article.
Image and text can be powerful partners. But in this case there are no prospects whatsoever. These two have nothing in common.
View Most Recent Story
:::
Notify me when there's a new missive!
Comments
Posted by: Donna on May 21, 2006 12:29 PM
Posted by: Jeff on May 21, 2006 1:01 PM
Posted by: Donna on May 21, 2006 4:54 PM
Posted by: Joseph Dombroski on May 21, 2006 11:21 PM
Posted by: Diong on May 22, 2006 7:54 PM
Comments are now closed for this post. But there are a few other entries which might provoke an opinion or two.