February 12, 2006
The 21st Century Mark of Success
We are ready for any unforeseen event that may or may not occur.

Former Vice President Dan Quayle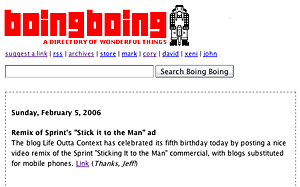 Boing Boing links to Jeff's Sprint Mashup
Last week, as I was talking to Cultural Tourism DC, a group of small Washington cultural organizations about the genesis of the Smithsonian American Art Museum's blog Eye Level, I was asked "How do you measure success? What do you hope to get out of this project?" An appropriate question. Blogging is a new way of disseminating information for organizations; traditional benchmarks of success don't always apply, especially if you're interested in more than just a revenue stream.
I began my answer by talking about the primacy of the social network that is the Net and specifically the blogosphere. It's people linking to people, slowly building a loyal audience that will be interested in what you are saying and doing. See the Technorati links at the end of this post? Clicking on any one of them will show you who else is talking about the same subject. This type of social networking is natural and commonplace to members of Gen-X and Gen-Y, audiences these organizations are trying to connect with.
Most sitting around the table that day knew what blogs were but had questions about the importance of the medium to their small organizations. Should they? Could they? Resources being tight, how could they sustain a blog initiative? Groups all over the country are beginning to ask the same questions as the medium shifts into the mainstream.
I was joined in this discussion by Eye Level's writer Kriston Capps, who also pens his own blog, Grammar Police, and Rob Goodspeed, co-founder of DCist, a Web site about the goings-on in Washington.
How did I measure success? Just a few days before I received the best news a blogger could get when Boing Boing, the most popular blog in the world linked to my mashup video of a current Sprint TV commercial. My visits immediately shot up by a whopping 768 percent! And my achievement was heralded by the 21st century mark of success: an email from my Web host informing me I was about to go over my allotted bandwidth. I'd have to pay big for my achievement:
The domain outtacontext.com is over pace for web/ftp traffic in the month of Feb. The total traffic for the month so far is 21.199 GB. The projection for this month is 105.995 GB. The limit on your account is 100 GB. You have seven days to…arrange payment for your overages. If we do not get your approval within seven days, your account will be disabled.
Thank you for your attention.
The blogosphere is littered with pleas from bloggers who suddenly and with out warning become the darling of the Net. Fame catapults their sites to the top of the stat charts and with it comes a big fat bill from their Web hosts for too much activity (that's "bandwidth" for you neophytes). They desperately search for a new host for their über popular Quicktime movie or Flash app. A big file in search shelter from the big bad Host. Would somebody mirror my remix? I pictured myself on the off ramp to the Electronic Superhighway holding a sign: "Will write for bandwidth." Fame is addictive.
Every community has ways of dealing with its social dilemmas. As broad a group as the Net is, helping those in bandwidth need is something our citizens can related to. Today we have grassroots groups like Ourmedia or open-source projects like Blog Torrent who will host our large files for free. This is just one benefit of the social network I referred to in my Cultural Tourism DC remarks.
More importantly, just as blogs have the potential to create new connections with interesting content, projects like Ourmedia and Blog Torrent allow small groups and individuals the power to deliver cultural programming without the need for traditional (and expensive) media outlets. "Sticking it to the man" by simply going around him is here. And the new audiences these organizations seek go to the Net first for their content.
With mixed emotions I have to report my visits soon returned to normal. I would not exceed my bandwidth limit and I would not need to ask for help. Not this time. The next day my stats came down to a mere 233 percent above the mean and by the next they had returned to just above pre-fame levels.
Friday I reluctantly called my Web host to inform them that, alas, the blogosphere was fickle and I wouldn't surpass my bandwidth limit this month. I reflected on my momentary star status. A momentary spike rather than a sustained jump? Not quite. With each blockbuster link from other sites I gain a few more loyal readers. My stats have steadily, albeit slowly, risen over the last few years.
Jennifer, the kind lady in my Web host's billing department took pity on me. Because I had been a loyal customer since the good old days of the late 20th century she would gave me the Net's equivalent of winning the lottery: unlimited bandwidth for any future endeavors.
Success is fleeting. But now I'm prepared, just in case. A good idea; a good Web host —Boing Boing, I'm ready for my next close up.
View Most Recent Story
:::
Notify me when there's a new missive!
Comments
Posted by: Nina on February 12, 2006 1:38 PM
Posted by: Keith Stieneke on February 17, 2006 8:28 PM
Comments are now closed for this post. But there are a few other entries which might provoke an opinion or two.