October 9, 2005
Not Lost in Translation
On our recent family trip to Disneyland I noticed something new: all the announcements and cautionary instructions for rides were both in English and Spanish. The all-American theme park had changed in a remarkable way.
My Southern California friends are surprised when I tell them that bilingualism is very much a part of our lives in Washington, DC as well. No, not in those hallowed halls of the Capitol but on the streets and the marketplaces around town. Signs on our busses and at retailers like Home Depot and Ikea are in Spanish and English (the only holdout of any major proportion is the subway). "Friends," I say, "we have a sizable Latino population here in DC, primarily Central American." We enrolled both our daughters in a Spanish dual language program at school. Math and reading are taught to them in both English and Spanish (and instructions for their homework often are in Spanish only).
The push by Anglophiles and organizations like English First, to make English the official language of the United States is countered not by "commie liberals" bent on destroying our American way, but more simply by demographics and commerce. We are becoming a bilingual nation by default. Retailers (and theme park owners) realize that it is simply good business (i.e. more lucrative business) to make it easier for large portions of our population to shop their stores and use their services.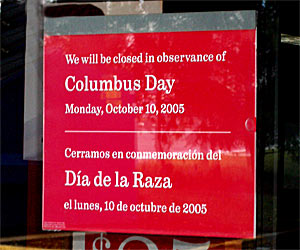 Commemorating an event from two very different points of view.
So it wasn't surprising my local Bank of America would post signs in both English and Spanish stating it would be closed for the Columbus Day holiday. What was interesting was that their sign was not just a translation of the language but a translation of the cultures to which it spoke.
Posted on entrance doors and windows big red signs proclaimed the bank's closure on Monday, October 10 for not only Columbus Day but for El Día de la Raza ("Day of the Race"). Two holidays celebrating two very different aspects of Christopher Columbus' "discovery" of the New World.
To a large number of Americans Columbus Day commemorates the explorer's landing in the Bahamas in 1492. Italian Americans celebrate it with pride. But to an ever growing part of the population it represents the beginning of a 15th century holocaust and the advent of slaves in the Americas.
The second Monday in October celebrates two very different aspects to the discovery of the New World. As cultural identity bumps into assimilation, NAFTA, and globalization we are experiencing a very different America. Some fear these changes while others embrace them. This presents a quandary to both the Republican and Democratic parties (but especially the Republicans) as fiscal policy (let the market determine our direction) conflicts with social policy (in order to succeed immigrants must assimilate and accept the basic tenets of the dominant culture).
I was reminded of this clash as I walked into my neighborhood bank to cash some checks. If you didn't speak Spanish you wouldn't pick up the clue this sign gives us about the changes in this country.
Columbus Day has become a holiday that represents exactly where this country stands at the beginning of the 21st century.
[ Columbus Day, El Día de la Raza, Christopher Columbus ]
View Most Recent Story
:::
Notify me when there's a new missive!
Comments
Posted by: Nina on October 9, 2005 1:40 PM
Posted by: Donna on October 9, 2005 2:09 PM
Posted by: Jeff on October 9, 2005 2:39 PM
Posted by: sosa on October 10, 2005 10:29 AM
Posted by: beto on October 10, 2005 12:47 PM
Posted by: Washington Cube on October 16, 2005 10:58 PM
Posted by: Pamela on October 25, 2005 5:23 PM
Comments are now closed for this post. But there are a few other entries which might provoke an opinion or two.