September 2, 2005
Living on a First World Edge
The governor of Texas today said that his state would take 25,000 people displaced by the hurricane. He called them refugees. And that is what they are. In the richest country in the world Mississippi is the poorest state and in many places here it looks very much like the third world.

Elizabeth Vargas
Reporting from Gulfport, Mississippi
ABC World News Tonight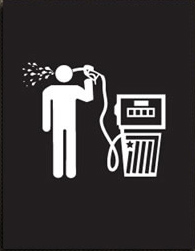 Let's get our priorities straight.
(Petrolcide T-shirt from Standpoint)
I live on a precipice. If I look straight out at the vastness before me I see opportunity and good fortune. I live in a constant heightened state and I am always looking ahead. I am wired and wireless. I feel connected to the 21st century. And I almost never look down.
Katrina reminds me of how close to the edge we really live. Hurricanes, suicide bombers, earthquakes, and human stampedes —natural or man-made disasters: the more we rely on our comforts, the less we think about them. And the more we dangle over that edge. It's a little scary when you think about it, if you ever do.
I literally live on the edge, the edge of an electrical grid. After a rough downpour, an ice storm, or, as happened two years ago during Hurricane Isabel, our house goes dark. Sweat drips down my forehead. Or I freeze. And I am uncomfortable, miserable, and angry. My life is temorarily disrupted while my neighbors across the street —on another grid— live as they always have, without disconnection or disruption. I can't see a thing in the dark but I look at them with envy.
But once the power is restored, I quickly and conveniently forget.
After living through 9/11 and two neighborhood snipers Katrina once again reminds me how close to chaos I live. And watching the people in New Orleans and Mississippi suffer and die, I must remind myself this is not happening very far away. Not far at all. I struggle to remember these are my people who are suffering. Katrina reminds me Americans hold no special dispensation. We are not immune.
Hubris. As the days go by we are no better at taking care of our own. We are simply human. Until we are pushed out of the present and into the dark and dank third world we assume life will always be as it always has for us: comfortable, ordered, and most of all humane. We would like to forget it's often not, even in the first world.
Katrina reminds me life is a struggle for the majority of people on Earth. It reminds me we are no different and no better than an Iraqi child or a refugee from Darfur. We can be tossed out of our complacency and have to work hard to stay alive at any time.
It's scary how close to the precipice we live. Katrina reminds me of that.
[ Katrina, New Orleans, Mississippi ]
View Most Recent Story
:::
Notify me when there's a new missive!
Comments
Posted by: Lavinia Weissman
on September 2, 2005 8:53 AM
Posted by: Nina on September 2, 2005 2:25 PM
Posted by: Donna on September 3, 2005 4:02 AM
Posted by: Barbara on September 5, 2005 5:20 AM
Comments are now closed for this post. But there are a few other entries which might provoke an opinion or two.