August 7, 2005
Farming in Suburbia
We just returned from our annual East Coast beach trip to Wildwood, New Jersey. This is the ancestral venue for my wife's family and like swallows in Capistrano we dutifully return to this spot the same time each year.
Growing up close to Zuma Beach in Southern California, spending both days and nights at the ocean is a bit alien to me. When we made our first annual trip back in August of 2001 I reported on the differences between West Coast and East Coast beach experiences. For the most part, nothing has changed since that post (except this year I saw a lot more fresh tattoos). The nice thing about New Jersey is the quest for the perfect body seems non-existent. Anything goes and no one cares. My less-than-perfect physique likes that.
On the way back we made our customary pilgrimage to the outlet malls that dot the road home to look for good deals on school clothes for the girls. This set our return to Chez Gates late at night and when we pulled up to the house something was amiss.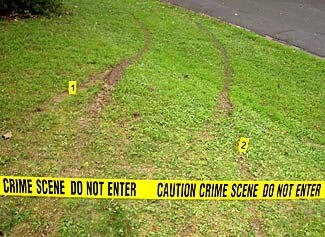 The crime scene: someone had mistaken our front lawn for their back-forty.
There were tire tracks all over our front lawn. It looked like someone had tried to do wheelies all over our yard. Our first reaction was to check the inside of the house for any similar intrusion. Luckily, all was as we had left it and our cat welcomed us at the front door (she was as surprised as we were to see our altered suburban paradise). Yet, it was very disconcerting to see our trashed lawn.
A couple people suggested this might be the work of our right-wing neighbor. No, not even he would stoop this low. Although his SUV now sports a bumper sticker for über-conservative Rick Santorum's Senate re-election (and we don't even live in Pennsylvania). Now that's low!
It was too late to check with our neighbors so we had to wait until the next morning to see if anyone knew what had happened. Our friends across the street filled us in. It happened at 2 am Tuesday. Jimmy, our local insomniac, saw the car just as it raced off. A friend told me this is called "farming" (as in "let's get the tractor out boys and prepare the field for the crops"). Luckily, our lawn is far from pristine but our neighbor Betty, who was also hit, was visibly upset.
Never underestimate the creativity and ingenuity of young vandals. What will they think of next?
[ Farming, Vandalism, Suburbia, Beach Trip ]
View Most Recent Story
:::
Notify me when there's a new missive!
Comments
Posted by: Rob on August 7, 2005 3:41 PM
Comments are now closed for this post. But there are a few other entries which might provoke an opinion or two.