June 8, 2005
Soviet America Resampled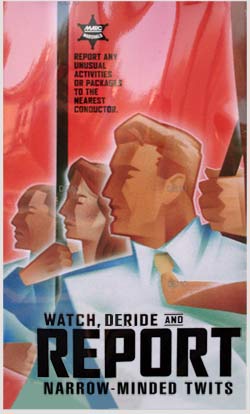 Err on the side of clarity when leaning towards totalitarianism.
Articulatory Loop reported seeing a "suspicious" poster on a MARC commuter train between Baltimore and Washington on Monday:
"…this picture pretty much sums up the new 'National Security.'"
Life Outtacontext doesn't think this bit of propaganda went far enough. In these insecure times always always err on the side of clarity. Misrepresentation and praetorian thinking can kill.
With that in mind, I've applied a little bit of Soviet-style revisionism to the MARC poster —you know, just to make sure commuters know exactly what to do.
Stay Alert! Narrow-minded twits: they're everywhere.
[ National Security, Revisionism, Totalitarianism, Posters ]
• • •
Mel McBride believed big media were doing a fine job of misrepresenting bloggers. To counter these misconceptions and put a human face to our words and images she has instituted the interview series "A Blogger's Blogger." This week yours truly walks into the spotlight surrounded by an interesting and eclectic group of bloggers.
View Most Recent Story
:::
Notify me when there's a new missive!