February 29, 2004
The Denim Truth for World Domination
"What brings you here today, Mr. Gates?" Dr. Warner thumbed through my chart without looking up. "I think I'm growing taller," I said. "That's impossible, Jeff. You're 54 years old."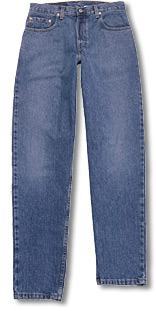 It appears that Levi's®, one of the oldest maker of jeans, has quietly resized its pant legs. Whatever your previous and long standing inseam measurement, the bottom of your pants now rests comfortably at your ankle. The White House and the Office of Homeland Security refused to comment on the rumor they asked the jean maker to alter its sizes to make Americans appear taller than they really are. But sources close to the White House assured us this is not part of their election year strategy or their quest for global domination.
I have been wearing Levi's for decades. And while my waistline has fluctuated over the years my inseam has remained steady at 30 inches, top of my shoe to my crotch. While I am an average 5'9" I'm fairly long-waisted (and short-legged).
But all of a sudden my longstanding length is too short. At first I thought my jeans must have shrunk over the multitude of washings and dryings. Or maybe my posture improvement regimen had altered my height. I was standing straighter and taller than I had in years (worldwide domination aside). So a few weeks ago I bought a new pair. Same size. And while they seemed to be just right standing in front of the store's full length mirror, I was becoming suspicious.
I reached my present height when I was 11. Nothing has changed for 43 years. There was no way my pant length had changed. And in buying jeans I have always followed the canned wisdom of every department store salesperson: it shouldn't shrink in the waist and only about ½ inch in the length.
I was having a hard time accepting that something was amiss. I wanted to cement the bottom of my jeans to the tops of my shoes. I started asking around at the office: Do you think these jeans are too short? I thought it must be my imagination. Women are used to various designers sizing their clothes differently. Men haven't a clue. I couldn't believe that Levi's would have changed their sizing without telling me. Impossible.
I checked the online Levi's Fit Guide. Interestingly, it was out of order. Now I was very suspicious.
I did an on-the-street survey of mens' pant lengths. From a distance of course. Men don't talk to each other about clothes (isolated and disconnected —just the way the government likes it). Just where were they falling these days? The women in my office confirmed the Michael Jackson length had gone out of style for middle-aged men a few years ago.
This morning I waited patiently for the doors of my local J.C. Penny's to open. Now that I had confirmation, I was nakedly aware of my fashion and patriotic faux pas. I tried not to make eye contact or engage any of my fellow waiting shoppers in any political or jean-related discourse. I quickly found two pair in my new supersized size. And as I handed the sales clerk my credit card I asked if she had heard any low level gossip about this vexing problem. "Are they Levi's?" she asked. "I've gotten lots of complaints about them being too short."
I relaxed. I was not imagining my recent growth spurt. But, you know, I do feel taller. World take notice: we Americans are mighty big and getting taller all the time. Don't mess with us.
View Most Recent Story
:::
Notify me when there's a new missive!