February 14, 2004
I Won, I Won!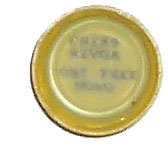 Found: one two three four five six seven eight iTunes/Pepsi bottlecaps out of 11 tries. In a vending machine in the basement of my office building. I won. I won! You really like me iTunes/Pepsi.
As usual, I brought my lunch to a midday meeting I was running yesterday. We're setting up a "cutover" schedule for migrating to our brand new Web site redesign. I opened my special bottle of Diet Pepsi right there in between bites of my brie, apple, and pinenuts sandwich —one must always balance bureaucracy with high class sandwiches whenever possible. It makes project management so much more pleasurable. And the spicy tartness of the Pepsi meshes so well with the creaminess of the cheese (I feel I owe you one Pepsi, so here's my product endorsement).
It was the best Friday the 13th a Web designer/project manager/bureaucrat could wish for. My exuberant reaction, however, did confirm to my fellow government workers that my management style is a little skewed.
So now I have to make a big decision. Which song should I get with my windfall? My tastes run eclectic and my iPod is filled with everything from Bollywood to Bluegrass to Disco to R & B. I just bought Speakerboxx from Outkast and Ladysmith's latest CD. Tell me, what should I get (and you better hurry —the special code on the cap seems to be disappearing)?
View Most Recent Story
:::
Notify me when there's a new missive!