February 18, 2003
Still Snowbound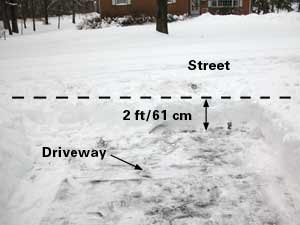 We are still snowbound. The main roads have been cleared. And our driveway has been excavated from the knee-deep snow. But the county has not made even an initial run down our street with its snow removal truck.
The government is closed, as are the schools so I am doing some of my own work here at home. Luckily, my net connection was not affected by the precipitation. Here is a photo of where our driveway meets the street. Scientific measurements added for clarity. Our neighbor has volunteered to snowshoe it to the closest liquor store.
Urban legend states that huge amounts of snow (coincidentally, I believe the threshold is 60 cm) will prevent both biological and chemical weapons from spreading. But that's just a rumor. Who knows where these crazy statements come from.
View Most Recent Story
:::
Notify me when there's a new missive!