December 18, 2001
The Art of Leveraged Bargaining
The planets were in perfect marital alignment yesterday! It was one of those days that brought out the best in my wife and I and proved just why we were a couple!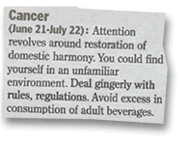 I had volunteered to bring something to our office Christmas party. My wife said she'd be happy to make her famous brownie recipe. I was grateful for her offer for I had just planned to buy something. But I was concerned she wouldn't have time. She was planning on helping a friend last night and wouldn't get home until late. "No," she said. " It shouldn't be a problem." And, true enough, when she returned she made them.
This morning was like all mornings in our household: totally chaotic. We roused two sleeping little girls, got them dressed and fed, despite their objections to our parent-approved menu (my youngest has just determined that candy is her breakfast of choice) and what they wanted to wear. Typically, as we get closer to the important "point of no return" (the border between leaving the house and being on time or being late), the pressure increases.
In the midst of this, my wife begins to cut the brownies for final packing. As I'm dressing, I hear a moan spring from the kitchen. "They're mushy!" "What?" I return. "What are you talking about?" "The brownies are mushy. I can't cut them! Let me put them in the oven for a little longer."
"We can't do that! We'll be late! Uh uh! No way." The pandemonium threatens to get out of hand. A quick call to Karen, a local co-worker, who often comes into the office later yields no help. Her husband says she's leaving in 15 minutes. "Well, that's it. I'll just buy something (What? Where? Does CVS have an office party section?). I will be forgiven by my office mates. We tried.
And so it went. I got to work and was intensely scouring the net for new innovations to incorporate into our museum's web site when Karen arrived at my door, brownies in hand! I was shocked. What happened? It turned out her husband was off just a little. She wasn't leaving in 15 minutes, more like 45. And my good wife rushed the properly baked brownies over. I was amazed and gratified. "Do something nice for your wife tonight, Jeff," Karen admonished as she walked away.
Now, just as there is chaos at the beginning of our day, so too is their chaos when I return home. The adults are exhausted and walk around as if we're already asleep. The girls, too, are tired but run around as if they have just woken up. So when pushing the front door open I was faced with my nightly problem: summoning enough reserves to make it through dinner, baths, running after the kids to put on their pj's, and read them a story. And then I had a thought! A deal really. Moms and dads are always making bargins with each other, parental trade-offs if you will.
"I will call our cell phone company to transfer your number to your brand new phone if you wash the dishes and put the children to bed." My wife looked at me in astonishment and exclaimed: "That's exactly what I was going to propose!" This was the moment of alignment and we were in sync!
You see, calling our cell phone company (which shall remain anonymous and heretofore be known as CPC) is an ordeal beyond imagination. Nothing is easy. Their bills are impossible for anyone with a graduate degree to decipher (example: you get free long distance but they charge you for it but then they give you a credit at the end of the bill for the same amount). But if anyone can move through this maze it's me. This is my forte. Not a job I enjoy, but one I'm really good at.
Up until last year we still had our original plan from 1996: 15 minutes for $19.95. The thought of changing it was too much to bear. But then, with my father's illness, I racked up a sizable bill and it was time to upgrade. After about 2 hours of being shuttled from one customer service representative to another (with one disconnect in between) I was promised some "courtesy minutes" to help offset my debt while I was moved over to a more contemporary plan (couldn't do it immediately you see, I had to wait until the beginning of my monthly billing cycle).
The courtesy minutes never showed up on my bill. I was never moved to the new plan and no one at this phone company had any record of my previous conversations with them. I was fit to be tied. Now I was angry and ready to bolt to a competing CPC. And then it happened. I hit pay dirt: I told them I was leaving. I was immediately connected to the Retention Department.
If you want anything out of your CPC, ask to be connected to Retention. They have the power. And they know codes that your lowly customer service rep has never heard of. No one on the initial rung had ever heard of courtesy minutes. But Retention had. I thought I was going nuts and started to picture myself in a contemporary version of Gaslight until I got connected to them.
Within hours (and that's a short time in this field), I got my extra minutes, got hooked up to a new plan, and I could almost imagine I had always been a satisfied customer! That's why my wife was willing to make this deal with me!
One of the first shocks I ever received as a married man was how different customer service reps, plumbers, and other workers treat women verses men. Literally, sexual discrimination hit home for me. But my wife and I both agree, I can often get things done in this department much easier than she can (and she's no slouch).
So, with the deal struck, I got in my pj's, closed the bedroom door, relaxed, and prepared for battle. When I finally was connected to a live person I simply said the magic words: "Please connect me to Retention."
The planets were in perfect harmony last night. And each of us had used our talents to help the other out. This is a joyous season!
View Most Recent Story
:::
Notify me when there's a new missive!