June 10, 2001
Synchronicity, Relatively Speaking
Synchronicity. Thursday morning I got two emails. One from another Jeff Gates (this one's the real estate agent in Michigan who was first to register jeffgates.com). The second from a woman who wanted to know if I was related to her grandmother.
I answered the Jeff first, informing him we had a "relative" who ran for Senate in the Green Party this year. Then I opened Nina's email. I was intrigued the moment I saw the subject: my grandmother's maiden name.
About three years ago I happened upon a geneology site and registered all my grandparents' names. I'd gotten one dead end inquiry during that time. I opened the email.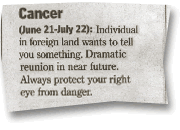 Nina was looking for descendents of her Grandmother Margaret whose siblings were Albert, Grisha, Yuri, Bessie, and Louis Bieber. I am Bessie's grandson. Wow, I'd always wondered about Aunt Margaret (how'd a nice Jewish aunt get a name like Margaret?). No one talked much about her. The only story I'd heard was that she and my grandmother had had a falling out many years ago. Now that everyone was gone that story sat on the pile of our family lore with the others. I returned her email.
The next day Nina answered by telling me a little about her family and herself. Turns out she's exactly 8 days older than me and lives in Arlington, Virginia. Now it was getting interesting. My long lost cousin lived right across the Potomac River from me! I told her to sit down before reading my email and gave her my phone number. A half hour later the phone rang. Caller ID told me it was her.
How quickly can one start sharing sacred family stories with a stranger? A stranger who, following the family tree, has lived an identically-filtered life. She wasn't surprised by my stories (I'll save the heavier ones for when we meet) and I wasn't surprised by hers. Family legacies, even from the Shtetl, run strong. Moisha, our great grandfather, might have something interesting to say about that.
* * *
Yesterday afternoon my immediate family and I went to a party with friends. The adults sat in the shade of the trees while our children played. Harry, someone we met when we went to China, had something to tell us. He recently had bought a used book on Amazon.com on Maryland fossils. When he got it, my wife's father's name was inscribed on the inside cover! After my father-in-law had died, my mother-in-law had sold many of his books (he collected rocks and fossils) to a book dealer. Synchronicity.
View Most Recent Story
:::
Notify me when there's a new missive!