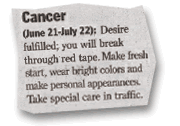 She must have taken pity on us as we told our tale. For when we finished she suggested our daughters spend the night at her house so we could go out for our anniversary!
We were in shock! It was hard enough finding a babysitter for any evening (the reason for our plight), let alone the entire night! Why this was unprecedented (in our house). This was a first! We gladly and immediately accepted.
So on Saturday, around 4, we dropped both of them off. We felt secure for she was my daughter's teacher and we knew her boys, the same ages as our children, loved to play with them. We immediately headed for the opposite side of the beltway to our favorite restaurant. Bliss. Conversation. Uninterrupted. Margaritas. Bliss.
Then on to a movie, the first we've seen outside of a Blockbuster box in about six months. Pearl Harbor. Not our first choice but the only one that fit our timetable after our luxuriously slow dinner. My wife agreed after I told her it was mostly a love story.
All of this was wonderful. But, up until this point it wasn't much different than if we'd gotten a babysitter. When we came home it was quiet but the kids would have been asleep at that time anyway.
The next morning I woke up at 7:15. I turned to my wife, who is not a morning person and said "Honey, you want to do something really different?" She turned over, eyes immediately open, and nodded. "Let's get up right now and go to the Georgetown Fleamarket! We'll get some coffee and a scone at Starbucks."
We were out of the house in 17 minutes! We just got out of bed, put on our clothes, threw a little water on our faces, and out we were. We were amazed at how many people were driving around at that hour! As we headed out she said it had been so long since we had gone to this fleamarket, she'd hoped it was still there. I replied "It doesn't really matter. We've already done something we'd never have been able to do with the kids." And we were in a great mood for the rest of the day!