New Year's Eve, 1972: it was one of those, uh, lonely New Year's Eves. No hot date and no hot party to go to. I was alone. So how to make the best out of it?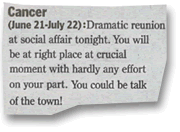 Dad and his wife, Vera, were vacationing in Hawaii (sounds like they were "jetsetters" but this was an anomoly—they never traveled much). And they were returning at 11:59 PM, 29 years ago tonight! I decided to surprise them and meet their plane at the airport! Well, at least it gave me something to do.
I always liked to surprise my father, afterall, he had liked to surprise me as a child. But, for some reason, he never reacted as if he were surprised whenever I tried. Back then I didn't know when to stop.
So, I got in my car and drove the 20 miles to LAX. Let's see United, 11:59 from Hawaii. That shouldn't be hard to find. I got to the gate about 30 minutes early and waited and watched for telltale signs of the upcoming bewitching hour. But nothing seemed out of the ordinary.
The plane pulled up to the gate five minutes early and I watched with anticipation as passengers disembarked. Waiting to surprise your father and stepmother on New Year's Eve. Sigh. I was digging deep.
The last passenger exited and not a sign of them. At midnight, one of the check-in people at the next gate yelled "Happy New Year" into his mic. With no one to hug I reached out to the nearest woman and kissed her! Egads! I kissed a stranger at LAX while waiting for my dad on New Year's Eve! She was surprised but I was even more surprised! Where did that come from?!
I waited around for a while but they never appeared. Since they didn't know I was coming I figured they'd just find their car and go home. So I left. The next morning I called and my Dad answered the phone. Home safe and sound. And, yes, they'd arrived right on schedule.
Turns out they were coming in from Kauai, not Honolulu. The funny thing is that both planes pulled up about 3 gates from each other at about the same time. We were like strangers passing in the night!
So, tonight, as I reflect on my present plans to bring in the new year (a quiet evening with my wife and two children sharing our living room with our close friends and their children) I think how lucky I am to have a hot date at a hot party.