Here in Washington there are numerous local parades on July 4th —very local parades, like through the streets of housing developments. These take place all over the region, and, as I suspected, they are staggered so politicians can go from one to the other over the course of the day.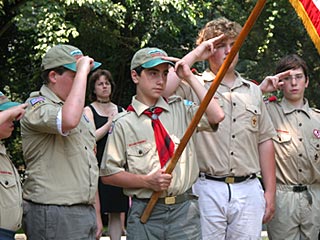 We always go to the parade in our friends' neighborhood. For some reason we don't have one in our own (perhaps we don't live in a key precinct). It's a tiny affair lead by a local troop of the Boy Scouts and homemade floats. This year we had a band of fathers, government bureaucrats by day, parading as a band of kazoo playing cicadas. Participants throw candy to the 100 or so locals who line the tree-lined suburban streets. Everyone ends up at the neighborhood park where there are speeches, a few rides, and traditional hot dogs and hamburgers.
Being this is an election year, our Congressman and our County Executive (akin to a mayor) were sure to attend. We stood waiting for the parade to start at the beginning of the route. A Congress staffer walked just ahead of our representative handing out cardboard fans with his re-election slogan on them (it was a sultry day and you can't go wrong with fans).
Next came Chris Van Hollen, our frosh Democrat with a good political pedigree (as close to our kind of politics as possible is in Washington), not five feet from me. This was a unique opportunity. Without thinking I recognize this was about as close to the seat of power as I could ever hope to get. I felt COMPELLED to use this occasion to tell him my opinion on something. But on what? I hadn't thought about this in advance. Suddenly the moment presented itself and I had to think fast. And it had to be something really important.
From the recesses of my mind and on pure instinct I yelled "VOTE AGAINST THE PATRIOT ACT!" This is truly one of the most alarming Bush political maneuvers in the last four years. I had had close encounters with political power before and fear had kept me from speaking my mind. This could be my best shot.
At first he didn't quite understand what I was saying. I repeated my sentiment: "PATRIOT ACT: BAD!" He seemed surprised that specific politics would even come up during this "feel good" type of venue (as did everyone around us who were just cheering). "Yes sir!" he fired back, giving me the thumbs up. I felt so empowered, if only for a minute.
Carpe diem! Carpe tui responsal. Seize the day! Seize your Representative (and tell him or her what you think).